I love video games! I've always been fascinated with animation and virtual reality, and when I discovered Atari's coin-operated tank game Battlezone in 1980, I was hooked immediately. It was the first of a series of games that I mastered over the next few years. I spent a high percentage of my disposable income playing, and I was considered a good customer by at least a half-dozen of the video arcades in Colorado Springs.
When I transformed my comic book publishing company into an animation studio in 1981, I spent my spare time playing a lot of games. After I directed an animated music video and a number of TV commercials under subcontract to another production company, we finally got our first independent production deal in early 1982, and it was a commercial for a Manitou Springs arcade, Tokens Game World. I was such a vidiot that I took a portion of their payment in the form of game tokens!
Just an aside here. The contract was to animate a 30-second commercial for theater ads and TV. Since we didn't own a 35mm motion picture camera, we had to shoot the spot with a 16mm Bolex and bump it to 35mm film with optical sound. Alexander Film Company did the lab work and made all the prints, and we were jazzed when we watched the finished spot in their little screening room. Roll it, Smokie! But the real thrill came when our team went to see a local midnight premiere of Star Trek II: The Wrath of Khan on a wide screen, and our animated commercial preceeded the movie. Sweet!
In 1983 I conceived, produced and directed a mini-series about the games, Video Game All Stars, which aired on KOAA TV, a Colorado NBC affiliate. The format consisted primarily of interviews with skillful players who showed the viewers how to beat the games. Before I started production I consulted with my friend Larry Frost who had worked in television for more than a decade, and then hired Wes Rogers to host the first episode. He interviewed players and a pyschology professor, and did a few stand-ups for the show.
Highlights of the first show are the early 1980s coin-op video games, the big Eighties fashions, hairstyles and the players' funny descriptions of how they outwitted their virtual enemies. The second episode was hosted by my friend William Kirk Kennedy, and the third by comedian Jeff Valdez. While producing this mini-series I met a lot of people involved in the thriving coin-op video game industry, and that led to my next gig.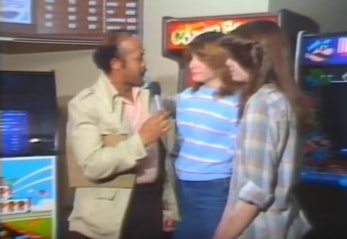 In November, 1983 I accepted a store manager position at Nickels & Dimes, a chain of arcades operated by Peerless Coin-Op Corporation in the Springs. My first store was located at 2905 East Galley Road, near Circle Drive. It was only about 1200 sq. ft., with 30 video games, a pool table and foosball. Suddenly, instead of spending a lot of time and money in arcades as a customer, I spent most of my time and none of my money in my own arcade, earning a salary plus bonuses. I kept moonlighting, doing animation for movies and TV.
I did a lot of personal promotion for my Nickels & Dimes location and worked hard to make my joint one of the cleanest, friendliest and most profitable arcades in the chain. In 1984 we were among the first to institute a no smoking policy. I negotiated to get the third and final episode of Video Game All Stars filmed in my store, sponsored entirely by Nickels & Dimes. All this extra effort paid off when, in December of 1984, Peerless closed all the locations in the chain except their largest and most profitable arcade. They offered me the store manager position of the one remaining Nickels & Dimes at 710 East Fillmore Street, and I gladly accepted.
In 1985 I bought my first computer, taught myself to write software, and designed my first joystick-controlled game. I had done quite a bit of animation at that point, but computer graphics were something totally new for me. I designed my animated sprites and other graphics on graph paper and coded them one pixel at a time. Since then my studios have produced a number of games, plus graphics and animations for other game makers.
The owner of Peerless Coin-Op was John M. Dorrough, and he was the mastermind behind all of these places: Nickels & Dimes, The Boardwalk, Boardwalk USA and Nickel-A-Play. Most of them were in Colorado Springs, but from 1991 until 1997 there were some big Boardwalk USA locations in the Denver area.
The popular "unlimited play" concept was conceived when Larry Frost, still a local TV executive, put together a big family day promotion for one of his advertisers, a car dealership, and asked me to provide them with a number of new video games set on free play mode. I arranged with Peerless to take him about a dozen games including two Super Mario Brothers in the Nintendo VS System, which were brand new and caused a sensation among local players. The date was April, 1986.
Dorrough decided to try promoting free play parties at the only arcade he owned at the time, the Nickels & Dimes at 710 E. Fillmore in Colorado Springs, which I managed. We opened early on Saturday mornings and charged $2.50 admission for a two-hour party. This led to the creation of the first unlimited play arcade, The Boardwalk at The Citadel Mall in 1987. We didn't have a card system yet, and the place ran on tokens. They started having the unlimited play parties in the summer of 1987 and soon they cut the whole place over to free play, charging $5 admission.
Our two biggest attractions were built in Colorado Springs, first at Galley and Circle in the Circle East Mall, with 60,000 sq. ft. of games, rides and attractions, and the big Boardwalk USA, a total of seven acres, on East Platte Avenue across from the Flea Market. I put in 90 hours a week building the Circle Drive center, and brought in my friend William Kirk Kennedy as cartoonist and painter to help decorate the place. I wish I had photos of his fabulous murals that got destroyed when the location was closed.
Mr. Dorrough would always seem to find a friendly landlord or investor to pay for everything. I was not involved in his business dealings, just the operations, card system design and marketing. It's no secret that he had many legal disputes with landlords and investors. Once, in private, I politely told him that he was known as a shrewd businessman, to which he pointedly replied, "And an asshole, but I don't care."
One of the unique features of Boardwalk USA was the card system that John Dorrough and Steve Renfrow invented. Starting in 1989, instead of coin mechanisms, the Boardwalk's games had card readers. The CardTronics™ System was patented for its provision of allowing players to buy hours of unlimited play, among other features. In order to play, every person needed their own Boardwalk USA card, and could choose to pay for each ride or game individually or opt for unlimited play and rides. I designed the graphics, sounds and animation for the CardTronics POS with a touchscreen, which was a rare thing in the early Nineties. I enjoyed working with the Amiga computers that powered these machines. The entire system was built using Commodore components, with all the circuit boards custom designed and manufactured by CardTronics™.
The first, biggest and best Denver area Boardwalk USA was at Havana and Yale in Aurora. It was a tough deal, because the rent was $25,000 a month. There was a small one on West Colfax in Lakewood in the power center with Casa Bonita, and an even smaller location on South Broadway in Littleton. Construction of the 25,000 sq. ft. Aurora facility was begun by Mark Dorrough, John's son. Within a few months Mark resigned, and I was asked to go to Aurora and help with design and construction. From that point on, I drove a company car and was given other perks.
In 1992 I worked as a manager in that location for about eight months, and helped build and manage the other two Denver area locations as well. After that I was reassigned to the Colorado Springs location and stayed there until it finally closed at the end of July, 1994. I declined reassignment to Denver, and instead, returned to working full time in my own animation studio, ARG! I took contracts to work on Boardwalk USA graphics, animation, their website and other marketing for about two years. Counting freelance, I worked for Mr. Dorrough a total of 13 years.
When I advanced to upper management, I found that I was often unhappy taking orders from Mr. Dorrough. His management style was punitive. On the whole, I'm glad I made a decision to return to more creative endeavors, and upon becoming my own boss again, I certainly made a lot more money.
Both of my sons were born during my little career in the family amusements business, and so I was the ultimate Disneyland Dad. I got Ricky started playing an NES system at the age of about 15 months, and almost all of Ricky and Tim's birthday parties were hosted by one of the arcades. They were treated as VIPs whenever they accompanied me to work!
Many thousands of people were entertained at these centers each year, and some have posted fond memories of the arcades I helped build, market and manage. Occasionally I meet people who remember me as the manager of Nickels & Dimes or Boardwalk USA, and they always tell me how much fun they had playing with their friends, and how they loved indulging in unlimited games with the card system.
For a few years in the late 1990s, my ad agency and animation studio produced the TV commercials for Mountasia Family FunCenter in Colorado Springs. It had two wonderful miniature golf courses, plus bumper boats, batting cages, other attractions and a clubhouse full of games, but far fewer than any of the Boardwalk USA facilities. My sons and their friends loved this place, too.
As far as game production is concerned, my best and most profitable effort was directing animation for the Spongebob Squarepants Tickler in 2009. This is a cute iPhone app with four built-in mini-games. The animation was a rush job (we had just nine days to get everything done), but the people at MTV Networks were extremely pleased with our work, the app was a hit, and it was also ported to Android.
Apparently, playing video games didn't hurt my kids. My son Timothy holds a 2012 Bachelor of Innovation™ degree in Game Design and Development from the University of Colorado at Colorado Springs, and has worked in the game industry since 2012. He's visited Japan several times, and earned impressive screen credits working on games for Nicalis, Microsoft and Sony. As of this writing, he's working for Sony's game development division in Los Angeles. His older brother Ricky was hired by Yahoo! after graduating high school, and has now been a prominent designer and prototyper for Intuit for over a decade.
Postscript: The Nickels & Dimes at 710 East Fillmore in Colorado Springs closed in the spring of 1989, and it's now a Cheapies discount store. The former Boardwalk USA and the entire mall at Galley and Circle in Colorado Springs was demolished in 1995, and a Safeway store was constructed there. The Boardwalk USA at 2802 South Havana Street in Aurora, Colorado was closed by 1996 and a Bicycle Village is now located in that space. William Kirk Kennedy, the artist who decorated two of the Boardwalk USA locations and hosted the second Video Game All Stars episode, passed away at age 56 on April 30, 2010 in Colorado Springs. John M. Dorrough died in Littleton, Colorado on April 22, 2011 at the age of 74. In the past few years my TV mini-series Video Game All Stars has found new fans on the Web, with consistently high YouTube viewership, plus great reviews from video game bloggers and historians.