My father, a U.S. Army soldier, was stationed in the Panama Canal Zone in the mid 1960s, and accompanying my family to that place was very inspirational for me. People say that "Panama will fill your basket with fish and butterflies." From the spring of 1965 until the fall of 1967 I attended middle and high school, but spent my weekends exploring the beaches, the rain forest, mountains, lakes, rivers and nearby islands.
At that time the Republic of Panama was not nearly as much of a tourist destination as it is now, and many beaches were undeveloped, open and wild. You could walk for miles on some beaches without seeing another person. My fifteenth birthday was celebrated on one of these Pacific coast beaches in a party with friends. We made a bonfire, somebody brought a guitar and we sang and danced the night away.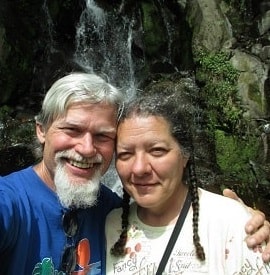 Another thing about Panama in the Sixties versus today is that the rain forests were much wilder back then. There was definitely more wildlife; for instance, monkeys and sloths filled the trees, and iguanas were often seen in the populated areas. I used to sit by the side of small creeks for hours, watching the Jesus lizards run across the water, and studying the enormous troops of army ants as they made their way across the land and water.
I also enjoyed watching ships transit the canal locks. Everything about Panama seemed magical. I fell in love with this land, making many friends there, and was devastated when our family was forced to return to the States because of our father's injuries in an auto accident. I always longed to return and see more of the country. So finally in 2013-2014, my wife Connie and I journeyed to the Western Panamanian province of Chiriquí, near Costa Rica, for an extended mountain and beach vacation. Connie enjoyed this trip as much as I did, since prior to this, she had never traveled outside of the continental U.S.
We flew into San José, Costa Rica and stayed in a small hotel downtown for a night, catching a bus to the Chiriquí Province capital of David, Panama the next day. A taxi took us the remaining 50 miles to Boquete. While in Panama we did our best to live like Panamanians, staying in a small cabana (cabin) at Even Vida on the slopes of Volcan Baru, Panama's highest mountain. We rode buses, hailed taxis and walked just about everywhere. We avoided the fancy hotels, resorts, bars and restaurants favored by the other Norte Americano turistas. We didn't even rent a car. Our hosts in Panama, John and Sue Daugherty, gave us rides to some outings far from Boquete, such as steamy hot springs deep in the interior, and inexpensive beach resorts favored by the locals near the provincial capital of David. One of our hikes together took us to some very private springs on a finca (farm) deep in the swampy rain forest near Rio Caldera that had an assortment of domestic animals. Another hike with Sue and John took us up to the Boquete Tree Trek Mountain Resort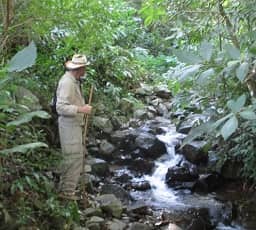 , where we enjoyed a nice lunch on their patio.
Central America is one of my favorite places, and Connie and I shot thousands of photos during our time there. I plan to write a lot more about our explorations in Mexico, Panama and
Costa Rica, and I'll post a lot more photos and videos soon.

go back
Home
|
Cartoons & comics
|
Web work
|
Video games
|
Panama
|
Rafting trip
|
Our farm
The Artie Show
|
1997 interview
|
IMDb
|
Wikipedia
|
Portfolio
|
Photos
E-mail Artie
Copyright © 2020 Artie E. Romero. Updated 03/12/2020